Grenoble offers a wide range of hotels to fit all kinds of budgets. You have plenty of choice in the city center, and the bus allowing you to go directly to Inria where the conference is held. We propose you some hotels which are located near to the bus station.
Concerning shuttle schedules, they will be set according to the conference program.
The following map shows the bus station, the conference location along with a suggestion of hotels: https://www.google.com/maps/d/viewer?mid=z5Pk7CuJbnno.kOITXfotpFEg (or click on the map below).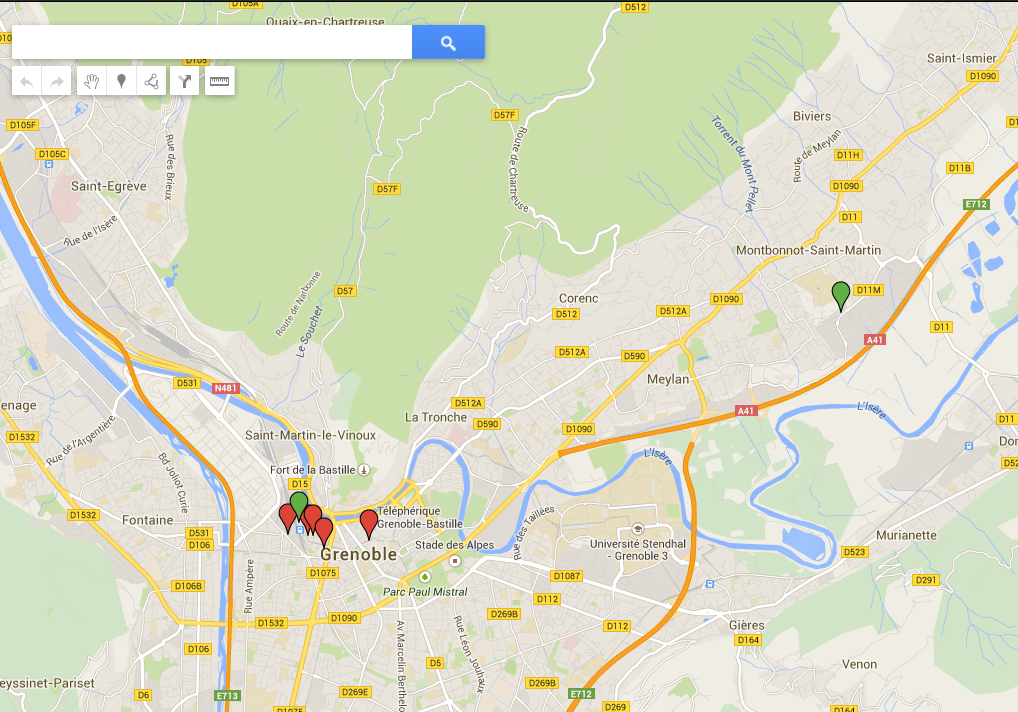 Hotels:
Prices:
– 85 euros a standard double room with breakfast included
– Parking: 8 euros/night or 15 euros/24H
– Promotional code: DisCoTec
– You can reserve by mail at info@royalhotelgrenoble.com or by phone at 00 33 (0)4 76 46 18 92
Prices:
– 104 euros a single room per night
– 9.50 euros the breakfast per day
Modality: book by mail or phone , specifying that it is for this event to take advantage of these preferential rates + give your bank guarantee
Prices:
5% discount on all room types available at the hotel, valid only for bookings made on their website with the promotional code: DISCOTEC2015 (valid from 31/05 to 7/06)
Prices:
– 76 euros a single room per night
– 8 eurosthe breakfast per person/day
– 88 cts the city tax per day
Promotional code : INRIA
Prices:
– 77€ a single room per day/person
– 7 € the breakfast per day/person
– 0.88 euros the tourist tax per day/person
Modality: book by email at grenoble@citadines.com and at jeremy.petras@citadines.com
Booking code: Colloque Inria 2015